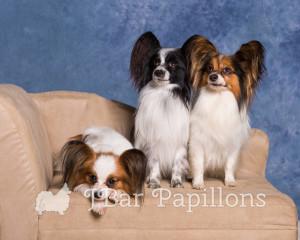 My name is Jennifer Jones, and I am located in Roswell, New Mexico (yes, its in the United States, directly between Texas and Arizona….we are not in "Mexico"). It is about 50 miles from Ruidoso, 80 miles north of the wondrous Carlsbad Caverns and 60 miles from Sitting Bull Falls….and all the camping, hiking, mountain biking, horseback riding, four wheelin' and huntin' you can find time for.
I am a member of the PCA (Papillon Club of America) and am an AKC Breeder of Merit.  My Journey began with my first Papillon in 2001. I hit the internet searching for more information and came across Toymaker's Peice of Cake, Paparazzo Forussi (who incidentally have the same sire), EnLa's Bravisimo, Alex First Choice, Sunshine Butterfly Xanadu and Mefath's Phoenix of Love. I have never seen a puppy produced by these boys that I did not fall in love with….they are the reason I am breeding and showing today. Though there have been plenty of obstacles along the way, they are the lines I've ultimately aspired to model my breeding program after.
I avoided making "alliances" in the beginning, because that seemed to burn bridges with other breeders, ie:  if you buy from breeder "A", you're blacklisted from buying from breeders "B, C and D" and vice versa. I felt that importing was the best way to remain independent and hopefully to avoid much of the drama that goes on ring-side. It doesn't seem to be that complicated any more, as I am seeing more and more "newbies" in the ring every year.
I was once told by a well known breeder, that she would have to know me better before she would sell me a dog. Well, I didn't want to be her friend, just because I wanted her lines.  How shallow would that be?  I don't remember the words I used, but I remember telling her something to the affect that I hoped to someday have a naturally accuring friendship with her, and that I also hoped that a day will come that my intentions of being a reputable, trustworthy breeder would be evident and she would think I was worthy of a chance.  I have since become friends with her and made some other close friends ringside and I feel that my perseverance has paid off.  If you would like to get into showing and breeding, I would recommend going to the AKC website and signing up for a mentor.  I didn't know they had a mentoring program when I started, but it would have been alot easier if I had.  I consider my good friend Kathy Taylor of Starfleet Papillons in Corrales to be my strongest mentor and supporter.  I deeply value her opinion and my appreciation for her direct honesty is beyond words.  I like things direct and to the point, and she never fails to tell me the truth.  I love her for that.
Aside from the Papillons, we are in a sort of partnership with my parents and their ranch in the foothills of the Guadalupe Mountains. (And I don't mean one of those 5 acre "ranches" on the edge of town, with 30 neighbors within rifle range). To put it into perspective, it is over 22 sections in size (one section equals one square mile, so their ranch spans over 22 square miles).  Its very small in comparison to those ranches that maintain 500-1000 head or more, but it seems to be just perfect for us, because we can work it ourselves, and don't have to hire hands to help out. Because of my husband job, we are not able to live on the ranch, but we sure do enjoy the time we get to spend there.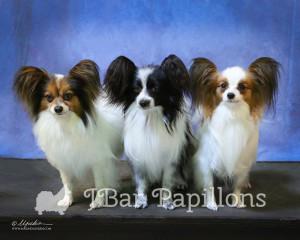 Before my life with Papillons began and before the family exploded in size, I co-managed a private animal shelter that was owned by a vet. I was sent to some animal behavior classes, as well as to local groomers to learn how to groom. On my free time, that vet started teaching me the skills of a Tech (Veterinary Assistant). I relished those skills and later on, they helped me to get a job as a Vet Tech when we moved to another town. It has been BY FAR, my very most favorite job, working for Dr. John Rauch and Larry Young at Artesia Animal Clinic.  Dr. Rauch has since retired from AAC, but I still work very closely with Dr. Young and Dr. Larson.  If you find yourself in desire of getting a reference about me, Call Artesia Animal Clinic at 575-748-2042, they know every single one of my dogs and everything that has ever been wrong with them.
Prior to that, I worked in a no-kill shelter. What a horrific experience! "No Kill" shelters are a noble idea, but completely, and enormously unrealistic. On a good day, I only had to carry 15 dogs and cats to the dumpsters, and a bad day, it was closer to 30-35. The dogs that were not killed by each other, were killed by disease. The thing about no-kill shelters, is that they tend to be over crowded. I can tell you from a very bad experience, that there are far worse things than death, and for a dog, living in a no-kill shelter is certainly one of them. Working so closely with the rescues and shelters, I have found that, even though they mean well, it is not always the best thing for a dog. I know too many "foster homes" for pets that have no business caring for another living creature and in any other setting, they would be fined for hoarding, and I just won't take the chance of one of the pets that I am responsible for, ending up with one!  Many times, these "rescues" and "fosters" are just glorified "dog flippers", people who use their status of "rescue" or "foster", to "rescue" dogs from unsuspecting shelters and families, then sell or breeding the animal for profit.
Below, you sill see pictures of our property so you can see how we live.  The yard is currently tore up while I'm fixing the foxtail grasses, but as soon as I have quality grass growing, I'll post pics of the yard and dogs as well.
Please also check out this article…it is a MUST READ for anyone who values the constitutional right to own and/or breed their pets:
"Mentoring: A way to oppose the Animal Rights Crazies" an AWESOME article about how to fight the Animal Rights Movement, and why you should.  If the link doesn't work, please google it, its really well worth the read!
Thank you for checking out my site, I hope you enjoy your visit.
Jennifer Able-Jones
575-302-7170
Roswell, NM 88201
jbarpapillons@msn.com