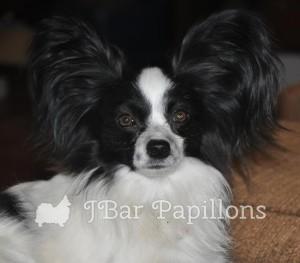 Dude lives with my good friend Deborah Schenk of Dollar Bar Papillons in Carlsbad NM.  He was her "stud fee puppy", for letting me use Bailey's brother Dooley for a litter that produced Dude and Bella.
He is a very loving, outgoing "up for anything" kind of dog, and so far, he hasn't forgotten who his "first mom" is, even when I go a year or so without getting to see him.
Deb finished his title very quickly as a puppy.  I don't think he ever had to show in the Open class.  His HUGE ears set him apart from all his competition and he was an easy pick for winners!