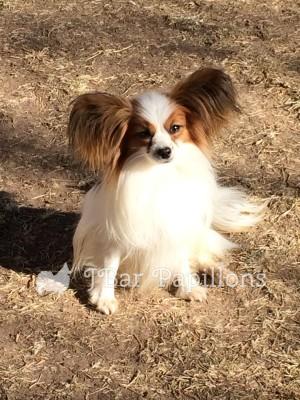 Mikey is another one of the "Lily-Able 4".  He was a particular challenge to show because he very obviously suffers from ADHD.  My mentor and my handlers thought I was kidding, they'd never heard of such a thing, but they only needed to handle him once to catch on to what that means.  My kids put most of the points on him, but my friends helped to, and Clint Livinston got his last Major for his Champion title and all of the points and two majors for his Grand. He behaves better in the ring when shown by my son Jeremie than he does for anyone else.  They seem to calm each other.
We had miscounted his points at his last show with Clint, we thought it was a major that would have made him a Grand Champion, but we missed an absentee, so he still needs a major for his Grand.  He's met all the other qualifications for his grand.   The economy has been bad, so I've yet to get him back out there for that last major but hopefully some day…..its not at the top of my priorities at the moment.
Mikey is a high energy-high drive, very active and sometime obnoxious boy, but very loving and craves attention.  Not just craves it, but demands it.  I had hoped to "Special him", because he's a very VERY showy boy, but thanks to some fence-fighting with his brother over girls coming in heat, he's lost a front tooth, so it could be a challenge, but I know it can be done.
Watch for his first group of puppies in the show ring in around Autumn of 2016.
Mikey is co-owned by Nancy Guttenberg in Santa Fe NM.