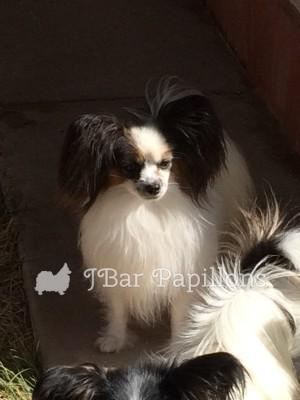 Matte is another of the "Lily-Able 4", and also the one with the kindest,  most loving, confidant personality.  The easiest to show of all of them.  He shows himself and you really don't need to do anything but groom him.  He acts as if he has nothing to prove to anyone and doesn't beg for attention, yet never lets you go a moment without letting you know he's available to you if you need him.  He frequently "checks on me", as if to say "hey, you ok?, well I'll be over there if you need me".  His loving personality is to die for, and he's quite handsome too.
Most of his single points were obtained by my kids and and his majors were obtained by my mentor, who repeatedly told me that "this" is my pick of the litter.  His coat is so profuse, that its difficult to see the "teacup handle" in his tail, but other than that, I'd say I have to agree with her.  He is my special boy and I hope to be able to start working toward his Grand in 2016.  I had him with a handler for a short time, but other than a couple single, really weren't very competitive with him.  They had dogs they were specialling for bigger clients, so the class dogs weren't a huge priority for them.
The kids would frequently argue over who would get to show him and who would "get stuck with Mikey", lol.  Matte was the favorite because he was well behaved and didn't embarrass anyone, where Mikey almost always embarrassed someone with his aloof and hyper behavior.