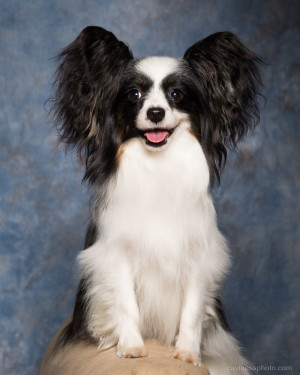 Aime is an incredible mover with a crazy-long coat.  It drags the ground if I don't keep it trimmed.
I thought Aime was finished with her AKC Champion title, but her handler and I miscounted points at one of her shows and so she is missing one single point, which we hope to get in the fall of 2017. So, the "Ch" in front of her name will be replaced soon as we get that last point. And lesson is learned….always keep track of the points on the AKC website and make sure the certificate comes in!  I just had so much going on, that it had slipped my mind that I hadn't received it.
She moderately active and vocal.  She's very much still a puppy at heart and just goes nuts if anyone is playing that she can't play with!
I ruined her as a show dog, in an outdoor show in the wind.  I didn't want to break a major, even though I knew she would be scared out of her witts with the tarps and canopies blowing and bounding the poles up and down, so I ended up sending her with Clint Livingstong and just when she was starting to show well again, I had to bring her home due to finances, and a couple months later, I sent her back out and she finished in about 6 or 8weeks.
She is really a gorgous dog, and I'm glad I stuck it out with her and got her finished!  I absolutely can't wait to see what she produces for me!