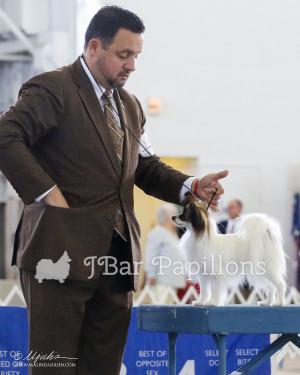 "Maisie" is the only girl in Lily's litter of 4 from January 2013.  The whole litter finished before their 2nd birthday, making their mom a DOM and their sire a SOM.
She had a pretty slow start in showing, because she was kind of ugly as a puppy.  My kids and my friends put a few points and a major on her, and then I sent her with Clint Livinston and in only a months time, she finished her Grand Champion title with 10 majors and at total of 41 pounts. For being an ugly puppy, she quickly turned into a fabulous butterfly!
Her temperament is calm and loving, but she does enjoy joining in with the fun and games.  She is one of those dogs that doesn't care what you are up to, she's all in and ready to participate, whether is being a couch potato for the day, or working.  She's happy just doing whatever you're doing.
She has so far, given me 1 litter by Ch Deanna's Supernatural Moses, which consists of two lovely girls: "Awesome" and "Lexi", who are just starting to show in 2015.  She is currently being bred to GrCh Starfleet Special Prosecuter and then for her final litter, I hope to repeat the first cross and then I will retire her in 2016 if all goes as planned.