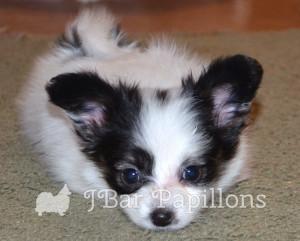 My puppies are only available to approved homes. While backyard breeders are only selling a commodity, reputable breeders put much more time, energy and money into our breeding programs and have very specific ideas of what kinds of homes we will sell our puppies to. Its important that you impress upon us why you should be considered for one of our puppies.
Please include a brief description of yourself, your family, your current pets, your lifestyle and what your plans are for your new puppy. This information will help me direct you to the puppy that will best suit your needs. If you are an active family, you want an active puppy. If you prefer spending evenings cuddled up in front of the TV rather than jogging around the block, you'll want a calmer, more peaceful puppy.  A mis-matched puppy some times does not work out, and it is my responsibility to do my best to avoid putting my puppies in a home that really needs a different personality.  The only puppy I have ever had returned, was to someone who wanted a loving, attentive lap-cuddler, and what they insisted on buying was the one who can't be still and always had to be into mischief and didn't show much interest in cuddle-time.
If you want the pup for showing and future breeding, it is most important to describe your facilities, their living arrangements, how many dogs you have and what your breeding goal is. I will want to see your AKC show records and/or pictures, a "resume" of sorts, detailing your accomplishments, even if that accomplishment is simply having attended a dog show to see what its all about.
I had one lady get very upset with me for asking her for this information. She said "she wasn't asking me on a date", she just wanted info on a dog I had available. So, let me make it very clear: If you are not willing to give me this information, then I will not be willing to sell you a dog.
Finally: Please consider how you would feel, knowing that you do your job well and you worked very hard and did everything right, paid for all your own education and training to get where you are in your company, and how offended you would be if your employer told you that he could hire some uneducated person down the street for half your salary. He gives you an ultimatum: you can either accept half your salary, or find another employer. I can assure you, this is a pretty offensive situation. So please, consider this scenario before expecting me to give you one of my puppies for the same price your local backyard breeder sells theirs for.  My price includes a health and genetics guarantee, unlimited support for the life of the dog (in cases which questions about health or behavior arise or anything else), years of pedigree and health research and some training (crate training, litter box and doggie door training etc and some times a little obedience and leash training, depending on age).  "Never quarrel with those who price their puppies less than mine, for they know what their puppies are worth".
Jennifer Able-Jones
Roswell, NM 88201
(575) 302-7170